Best Booking System for Small Business
Best Booking System for Small Business What do you understand by the word 'booking system?'. Well, it is a procedure/service/software to make your business successful in the best possible way. You can manage your customer information and their appointments easily with this software.
The basic concept behind the successful booking system is that you should be inventive in such a way that it should become easier to accommodate multiple customers at the same time because big-time businesses always rely on such systems.
Resurva
Resurva is an online booking system which I've seen used by a number of barbershops. Features include a weekly calendar, text and email reminders, analytics, and the ability to manage bookings across multiple business locations.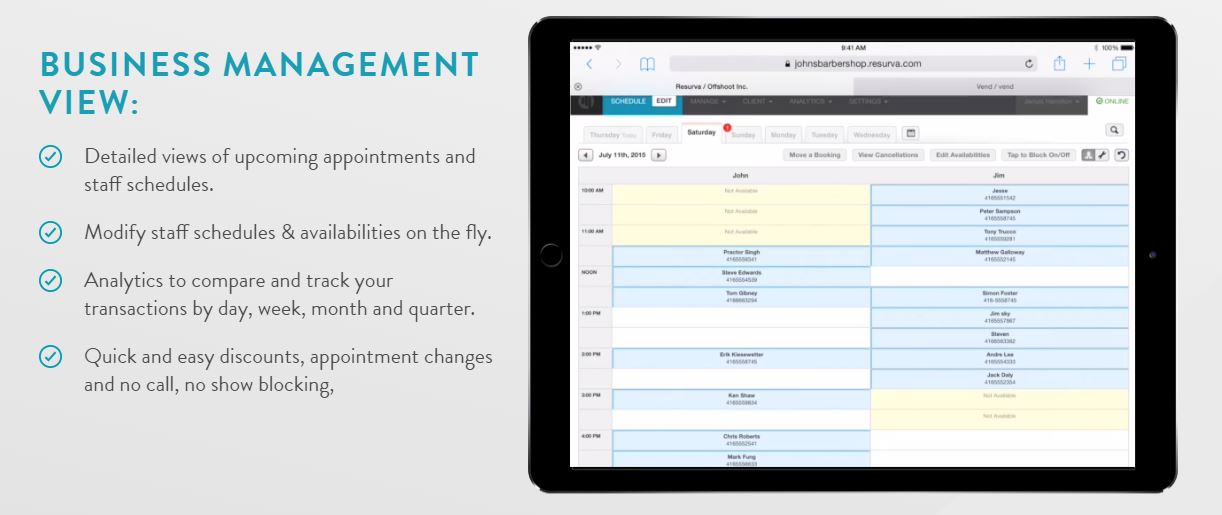 Pricing depends on business size and booking volumes. Its basic package is $20 per month for small businesses, rising to $75 for its top united package, with additional charges for extra locations.
Pros:
At $20 per month, it's a cost-effective solution that is easy to set up and you can have a 60 day free trial
IOS app available
Key features include appointment waiting lists so that customers are alerted when a slot is available
Cons:
Some reviews of Resurva are negative, with out of date software and poor customer support cited
It isn't clear how it can integrate with social platforms although it mentions Facebook, Google and Twitter integrations on the website
It doesn't integrate with Google My Business at the moment and is not one of Google's approved booking providers
Skedda is an online booking and scheduling software for coworking spaces. It's also used extensively at sports clubs and other types of businesses. The two main draws: it's super easy and it has incredible customer service (according to the reviews). It's also well-priced. A paid subscription starts at $5/month, but smaller spaces can probably get by just fine with the free option.
OfficeRnD is a full-service software platform built to empower coworking space managers. Its tools run the gamut from CRM, member billing, contracts, and of course, scheduling and booking rooms. The space management feature allows you to set up specific pricing and cancellation rules unique to your coworking space.
Nexudus is a full-service coworking management application. It was designed for bigger spaces and has more features than the others on this list, like multiple integrations, a real-time room availability app, and reporting.
Robin is a conference room booking solution that can also be used for individual flexible desks. Their platform allows for some cool advanced features like mapping of your office space and digital signage to view current room status and on demand booking. They charge per room, so it can grow as you do. Also, be sure to check out their slick mobile app in which workers can report issues within conference rooms, and can utilize bluetooth beacon technology for better usage metrics!
Cobot is a simple coworking space management software. The best feature is the self-service booking calendar that integrates with the invoicing system to automatically charge members based on their usage of space, equipment, and so on.
Vyte makes scheduling meetings a cinch by automating the tedious process of finding out when everyone is available. You pick a few possible meeting times and the app sends them to the group, finds the time that works, and then syncs with everyone's calendar. They have a few different pricing levels with different features, but the app can be very helpful for those who are managing lots of schedules.
HubSpot Meetings is a part of the HubSpot Sales suite and helps save time booking meetings by letting others pick free time that you determine on your calendar, then integrating those meetings with Google Calendar, Office 365 Calendar, and HubSpot CRM. Perhaps its greatest strength is its integration with the HubSpot CRM and other HubSpot Sales tools like automated sequences and templates. Together, you can automate most of your usual daily sales tasks and track it all in your CRM.
YArooms is a conference room booking software. The clincher here is the easy-to-use iPhone app. As part of the package, you also get the YArooms Door app, which you can download onto a tablet mounted at the conference room door for real-time availability and booking.
When you need to schedule meetings at the coworking space, Appointlet's got you covered. From 1-on-1 meetings to group conferences, all you need to do is set up a scheduling page and share the link with your partners. Everything's fully automated, so you don't have to send email confirmations or reminders. Plus it's easy to keep track of everyone who will be joining you for the occasion!
Doodle is great for scheduling meetings and events with random groups of people. Unlike almost every software, everywhere, you can use the tool without having to create an account. It only does one thing, but it does it well.
Want even more tips on creating an amazing member and visitor experience at your coworking space? Download our guide, "How To Implement a Visitor Management System At Your Coworking Space" here.
Bookafy is an online booking platform used for booking staff, rooms/resources, and group events. Integrate with your calendar to show real time availability, along with SMS text reminders, payments, and much more. Bookafy's customer facing UI is beautiful, plugs into any website, and very customizable.
Calendly also tries to solve the "find a time" problem that we face daily. Their advantage is that it could be your enterprise solution to this problem. With multiple integrations and a large support network, they are ready to handle and support a large number of employees.
Scheduling Events
For getting your event out onto the global radar, there's really no better tool than Eventbrite. You create fun events, people search for fun events, and the word out gets out. Simple as that!
Splash calls itself an "experience management software." Its event planning features include website creation, integrated email marketing, low-fee ticket-selling, and RSVP collection — everything you need to create not just an event, but an experience.
For planning member events, check out Teamup. This application lets you easily create and share a group calendar. There are several pricing tiers, but the basic free option allows you to have unlimited users on up to 8 sub-calendars, which is probably enough for most coworking spaces.
Bookeo
Bookeo claims to have processed more than 47m bookings, with more than 40,000 active users. It offers booking software to suit a range of businesses, including basic appointments, booking for courses, and for travel and activities.
One potentially useful feature is the ability to embed the booking widget into Facebook pages and integration is available for online calendars, website builders such as WordPress and payment gateways like Stripe.
Pricing varies according to the types of booking. Basic appointments start at $14.95 per month with a limit of one staff login and 200 monthly bookings. There's a small business tier at $29.95 which allows for three staff logins and 1,000 bookings. Prices then increase up to $79.95 depending on numbers of bookings and staff logins.
There are a few complaints online, but Bookeo has positive reviews overall.
Pros:
It can integrate easily with major online platforms and can be used on Google My Business and other social platforms
Positive reviews from other users
Seasonal businesses can freeze their accounts during quiet times and pay just 30%
Reviews point out that the software is easy to use
Cons:
Some reviews point to cumbersome software updates and a confusing interface
Technical support is email only
Some reviewers felt that they outgrew Bookeo as their businesses took off
Limited features for more complex bookings
10to8
10to8 provides booking software which enables businesses to schedule, cancel and reschedule appointments as needed. 10to8 can integrate with Gmail, Outlook, iCal and other software like Mailchimp, Zoom and WordPress while booking buttons and forms can be embedded into websites.
There's a free version of the software for up to 100 appointments per month, then pricing starts at $9.60 all the way up to $40. Paying more increases the numbers of appointments, staff logins, and greater levels of support.
Pros:
It's cost-effective, with free options and a low starting price for paid packages
The vast majority of 10to8 reviews are positive, which suggests plenty of customers have been happy using this booking system
Useful reporting features to track seasonal trends and growth
At $9.60, it's a cost effective option to begin with
Cons:
There are some criticisms of the usability of the appointment management system
It doesn't currently integrate with Google My Business
Some reviews suggest initial setup is difficult
OpenTable
OpenTable is a booking system for the restaurant industry, used by more than 60,000 restaurants. It's simple to use, with an easy interface for customers.
For restaurants, it allows them to take bookings, manage tables, and also provides reminders to customers.
OpenTable pricing starts at £29 per month plus extra charges for network cover and a booking widget for the basic entry-level package. Costs rise to £299 per month for the most comprehensive package which offers staff scorecards and automated guest emails.

Pros:
The system is generally well-reviewed, with a few complaints around the ease of use for businesses
It integrates with Google, TripAdvisor and other major sites, allowing you to provide booking options beyond your own website
It's the major booking system in this space, so it brings with it a user base of customers with the app installed, or who trust and know how to use the system
Phone or email customer support is available
Cons:
Pricing is one of the major drawbacks, with users having to pay more for some advanced features
Ability to customise bookings and make special requests is limited
Some complaints about the usability of the mobile interface
BookSteam
BookSteam is aimed at a variety of business sizes, allowing customers to book online and businesses to manage bookings behind the scenes.
It provides SMS and email reminders and can allow businesses to take payment at the time of booking. Other features include branded booking pages, reviews and a 'Book Now' widget that can be embedded on your website or Facebook Business Page.
Pricing starts at $19.95 per month, rising to $79.95 for larger businesses. The features are the same, the different pricing levels depend on the number of staff that can access the platform and the number of locations served. The mid-tier option at $29.95 with five staff logins and five locations will suit many SMEs.
Pros:
It's suitable for a range of businesses, with pricing tiers to account for different budgets and services
Reviews are positive, with praise for levels of customer support
Bookings can be reviewed and accessed by staff via mobile
Personal calendars can be synced with Booksteam
Cons:
It doesn't integrate with Google My Business and all social platforms at the moment
Reviews also point out that the setup process can take time
Customer support is email only, which can be a negative for some users
Conclusion
Choosing the best booking system for your small business will vary based on your specific needs. These tppls are the most popular booking systems used by small businesses to help you decide which one works best for your business.