If you are been working on software development project and dealing with documentation, chances are that at some point you have been asking yourself "what is the best documentation format". Doc style question must have set your mind thinking to what extent documentation is crucial for a software company? If you talk to a developer, he/she will definitely vouch for the fact that writing documentation during development time saves time and resources but when it comes to choosing style of documentation, they will struggle to answer you.
Documentation websites, or communities, are places where people can come together and dissect the code, discuss potential problems and solutions, share tutorials and content, and engage in different technical discussions. The best documentation tools are those that help developers improve their skills, advance their careers and make a place to discuss the programming topics of the day.
Documentation comes in many forms, ranging from product documentation, software documentation, process documentation, user manual, guides, SME documentation, instructional manuals, release notes, and more.
But regardless of the format or template being used, the goal of writing user documentation is to provide an end-user or the intended audience with the information they need to get to the right answer or solution. A comprehensive and great documentation site not only offers valuable content; it also has an impact on how users experience and interact with your product and brand.
What are Good Documentation Practices?
When it comes to creating a successful documentation site and knowing how to write technical documentation, there are a couple of best practices to keep in mind:
Comprehensive. Comprehensive documentation covers all aspects of the product, without making assumptions about what the user may or may not know. Examples, code samples, images, videos, and other content can play a role in providing a seamless experience for users in your user documentation.
Up-to-date. Nothing is more frustrating to an end user than locating an online help topic or support page, only to find that it references an outdated feature or version of a product.
Easy to Find. Users shouldn't have to hunt through your site to find the answer. A menu, robust search functionality, related content links, or other easy navigation elements make for a better user interface that makes it easier for users to discover content.
Visual Appeal. A well-designed site goes a long way in keeping the end user engaged in your site for effective technical communication. By offering an inviting, clear experience that looks great on mobile and desktop devices, users are given a consistent look-and-feel that matches your brand instead of just the plain technical writing text of a dull and lengthy technical document.
Looking for real-life examples of companies with great technical documentation sites? The following online technical documentation example sites not only offer clear, comprehensive content, they also include elements that enhance the user interface and journey. And as a bonus for MadCap Flare users – these sites are all created and managed with Flare.
Here are a couple of our favorite technical documentation sites that follow best practices, along with their stand-out features that are essential requirements to create a positive user experience and while providing effective user documentation.
disguise one Help Site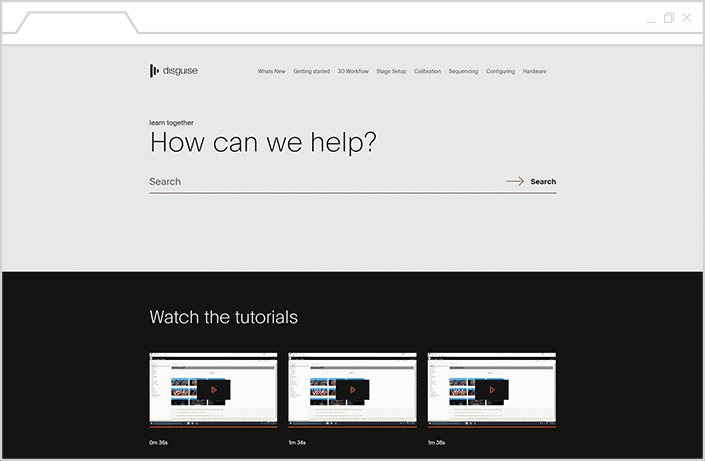 Top Navigation menu. disguise one's navigation menu offers easy-to-access content that looks like a natural extension of the corporate site. Whether users are viewing the site from a desktop or mobile device, the content responds appropriately. In addition, the menu and breadcrumbs quickly lets users know where they are in the documentation plan.
Video guides and tutorials. Throughout the site, users can view embedded videos that offer tutorials on how to use disguise's products. These videos offer visual examples that explain how their software works, and help to provide a consistent learning experience for customers that is easily understood.
Suggested content. Each topic page offers related articles and other content that directs the users to relevant resources, pointing them to additional topics that could provide a different angle to a solution. These pages also ensure that they continue exploring the help site for additional user assistance.
Solace Technical Documentation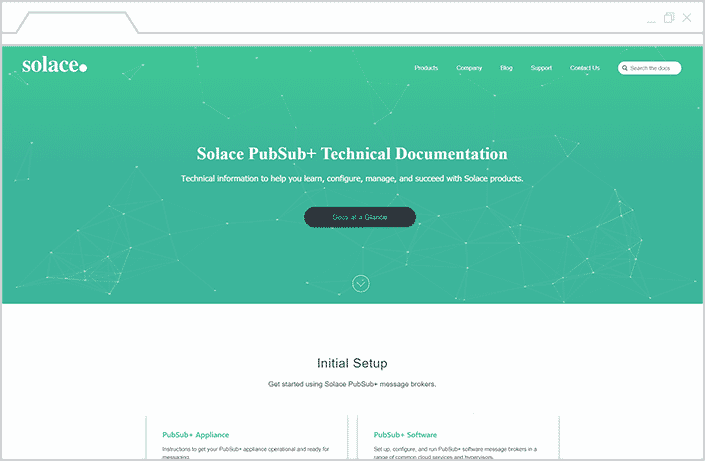 Resources collected in a centralized portal. Finding the right resource is no easy task, even for a technical writer. Solace responds to this need with a clear hierarchy in their navigation, starting with a central portal that lets the user view all the documentation from a central hub.
Highlighted search functionality. The search tool takes front and center stage in the Solace documentation site, giving users the ability to quickly find what they're looking for. And if users need a jumping-off point, they just need to scroll down to get started with their recommended resources, organized by target audience and product.
Cleverbridge Client Support Center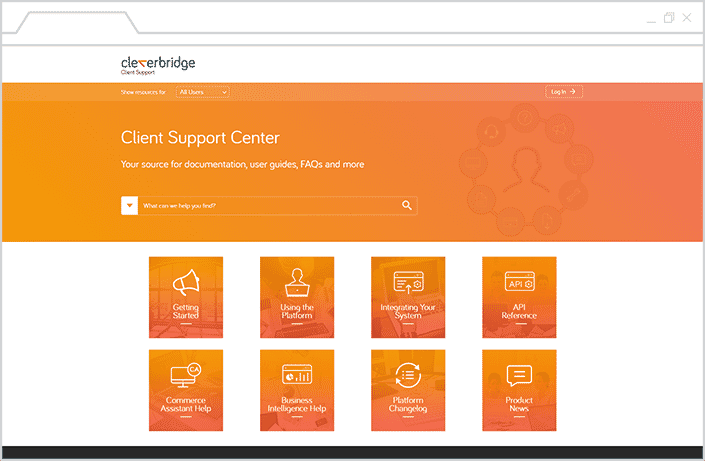 Branded Layout. Cleverbridge's Client Support Center serves as a seamless extension to their brand. Typography and brand colors are consistent throughout the site, ensuring that users have a streamlined experience as they explore the resources.
Role-based Content Delivery. The site offers a customized experience for different types of users, narrowing down the resources that are relevant to their role. Users can access content specific to their roles by using a drop-down list to choose the appropriate user view.
Sisense Documentation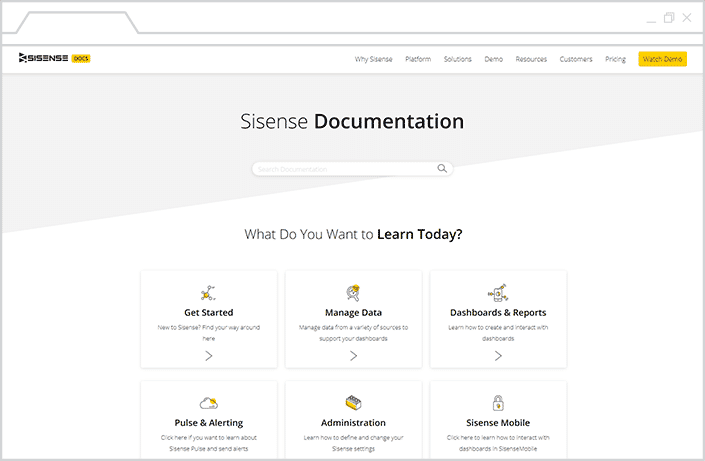 Quick start and easy-to-access guides. The quick start guide is for users that don't know where to start, Sisense's documentation site features a card layout, which offers users with several options that focus on common features of the platform. In addition, a quick start guide offers a great option for users that are new to the platform.
Seamless feel and integration with corporate website. The clear page organization and intuitive design makes it easy for users to navigate content. In addition, the documentation site also shares common elements with the main website, providing a consistent experience across multiple touchpoints.
Versioning selection. For users that rely on earlier versions of Sisense's platform, they have the option to select a customized view of the site. Users are then led to resources that address features specific to their selected version.
Spryker Documentation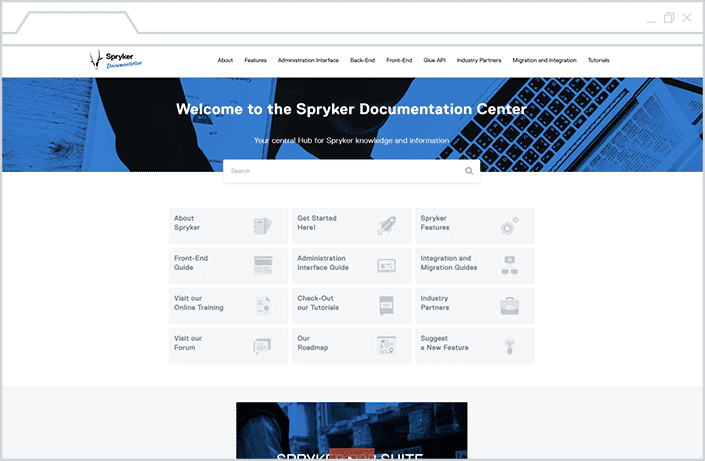 Code samples. Providing code samples that software developers can test for themselves is a great resource, especially in API documentation. Spryker includes plenty of code samples in their user guides, along with copy-to-clipboard links for easy access.
Accessible Content through Search and Navigation. Spyrker's documentation is easy to browse, and robust search capabilities simplifies the process of finding the right answer. The easy navigation menu, which highlights the page or subpage you're currently on, allows for granular categorization of content.
Whether they're searching for a specific technical document, user guide or user manual, software documentation, product documentation, design document, or other type of content, users can readily find the information they need.
Keywords and Popups. Spryker's documentation makes it easy for users to determine whether a help page is relevant to them with visual cues. Pages are tagged with keywords and popups that display in headings, as well as inline within the text, that conveniently lets users know if features are applicable to their use case.
If you are looking for digital document management and automated workflows, DocuWare is the right solution.
Available as both cloud and on-premise solutions, it is perfectly designed to align with your business requirements.
The software currently caters to global customers across a wide spectrum of industries right from retail and healthcare to manufacturing and government.
Features:
✓ File Import
Importing and indexing documents is a breeze with this feature. No user interaction with MS Office required. ✓ Versioning
Track edits and save changes made to your document. Get access to document histories anytime you want. ✓ Control Dashboard
Keep track of your workflows from a centralized dashboard. ✓ Workflow Automation
Automate workflows and set rules for document handling, assigning tasks, and much more. Pricing –
Available on Request
ProProfs provides one of the simplest documentation software. It takes care of all your documentation needs right from creation and customization to editing and finally publishing it. You get insightful reports with stats such as popular articles, poorly rated articles, failed searches and more. Its powerful features are instrumental in building documentation of all kinds – technical, training, IT, and the like.
ProProfs is being used by some of the leading global brands, including Adobe, Acer, Nissan, HighQ, and many others. It addresses various concerns such as reducing external and internal tickets, increasing team collaboration, streamlining business processes, and much more.
It helps you at three major fronts:
Streamlining knowledge management for businesses of all shapes
Reducing tickets and bridging knowledge gaps among employees
Ensuring smooth employee onboarding and support operations
Types of Technical Documentation
All types of technical documentation fall into three main categories: product documentation, process documentation, and sales and marketing documents.
1. Product Documentation
Product documentation encompasses in-depth guides, training manuals, and information that show users how a product should work or how to use a product.
When most people say "technical documentation," they are talking about product documentation. Product documents typically cover instructions and tutorials to help end-users accomplish a task. They include guides, illustrations, and reference sheets that cover:
Information on the requirements or system specifications users need to run the product efficiently
Installation and usage instructions
Frequently asked questions (FAQs) or knowledge base
For product documentation, it's recommended to leverage technical writing software and software documentation tools to create easy-to-use and help documentation.
2. Process Documentation
Process documentation, on the other hand, is a document that shows an internal team what they need to know to properly execute a task. It covers information that helps create consistency and accountability within your organization, including:
Plans, schedules, and notes that establish standards and patterns for different processes
Reports and metrics that track project, staff, and resource performance
3. Sales and Marketing Documentation
Sales and marketing documentation presents information to help your organization establish its niche in the market and provides sales enablement content to win more customers. A few technical writing examples of these types of documents include:
Market requirement and business plan documents that helps set the groundwork for a company
White papers and case studies to show potential customers the real-life application of your product or service.
RFPs and proposals that help attract and secure business partners and new contracts.
Technical Documentation Formatting Best Practices
A subject matter expert will write great technical documentation. However, they won't be able to reach the masses. A technical writer, on the other hand, would be able to translate complex concepts and present them in an easy-to-understand form.
To do that, the writer usually follows a simple 5-step process. It's the same whether it's a senior technical writer or someone who's starting out. And, it works regardless of the document formatting.
Step One – The technical writer starts by conducting research on the subject of the document. Using that research, they develop a documentation plan. The plan includes goals, style guides, tools, management software, topic outlines, existing resources, and a deliverables schedule.
Step Two – After that, the writer starts deciding on the document format and the document structure and design. That includes the flow of the document and the on-page design. For this, they usually make use of templates because they use existing navigation structures.
Step Three – At this point, the technical writer can start writing the documentation. They come up with a rough draft using the style guide and all the information available. It's best to get some peer reviews and feedback to make sure you're on the right track.
Step Four – After all the revisions, the writer tests the documentation. The idea is to check the ease of use, safety, and overall usability for users.
Step Five – Once the final technical documents are up, the technical writer sets up a maintenance schedule to regularly update the documentation. They also set up things like an issue tracker, web app features, and other add ons.
Conclusion
Online documentation is a crucial part of project management. It helps us to properly guide customers and other clients through their journey. The better our documentation is, the more we can make sales and improve customer support time. Did you know that every minute you save your customers can help you to earn an extra $100 per day?
It is sometimes hard to get to grips with the technical side of things, especially with computer technology evolving so quickly. One of the great things about computers and other forms of technology is that the developers have a great sense of humor when it comes to making the manuals for their libraries. Documentation originated in technical reference material written by the people who designed and built machinery, weapons, or other complex equipment and systems.