Hashtags are powerful word-based tools that enable you to target your most loyal audience on different social media platforms. From Twitter to Instagram, they serve as amazing digital tools for achieving your business objectives. However, the effectiveness of hashtag campaigns often depends on the tools you use to manage them.
Hashtag analysis is a very effective way to gather data on current trends, identify influencers, and mold your marketing campaigns. The best hashtag tools are designed to provide you with meaningful insights.
If you are new to social media and don't want to get overwhelmed with tricky analytics and reports, we advise you to use TweetBinder. This analytics tool can give you a complete overview of how your hashtag is performing. Moreover, the reports are clear and easy to comprehend.
Tweetbinder will show you how your hashtag is performing, who is engaging with it, and all. The tool also offers an overall analysis of tweets related to your hashtags, retweets on the post with the hashtags and more. You will get a complete breakdown of retweets, replies, tweets by types, etc.
TweetReach is meant to make the lives of social media marketers easy. This powerful tool does everything one would want from a hashtag tracking software. For those who spend a lot of time and resources on hashtag research, this tool can enhance their outcome.
TweetReach by Union Metrics allows real-time hashtag monitoring for Facebook, Instagram, and Twitter. Through this tool, you can get information on when your hashtags were used and who used them the most. The free snapshot analytics charts performances like hashtag popularity, influencers who use them, when it's used the most, and more!
RiteTag, a part of RiteKit, is one of the most widely used platforms to track the performance of a hashtag. The platform allows users to find trending hashtags and use the suggestions to nurture more engagement.
With RiteTag, you can find out which hashtags can enhance the exposure and reach of your content, which ones are losing popularity, and how much visibility has a hashtag received so far. Most noteworthy features of RiteTag include trending hashtag alerts, hashtag grouping (tag sets), and checking the analytics of a hashtag in real-time.
The browser extension offered by RiteTag comes handy in analyzing the potentials of hashtag you are intending to use.
Mentionlytics is a popular social media analytics tool for businesses and brands to keep track of brand or product mentions across social networking sites.
From start-ups to multinational businesses and public figures to agencies, anyone can use the tool for online reputation management, hashtags tracking, lead generation, competitor analytics, searching digital marketing influencers, and more.
Apart from analytical data and statistical reports, Mentionlytics offers a unique feature called 'Social Intelligence Advisor'. This AI-powered feature runs an algorithm to uncover brand mentions and other useful reports. Not only this, but SIA also gives deep insights into the reports to allow brands to use it. One can also seek advice on how to make the most out of the reports from the experts.
Getting started with Mentionlytics is fairly easy and quick – explore the tool to get started.
Keyhole is yet another social media analytics tool that you can use to strengthen your SMM campaigns.
This hashtag tracking tool monitors hashtags on Instagram and Twitter in real-time. With this tool, you can have an in-depth report on impressions, reach, the number of posts, users of the hashtag and more.
Keyhole allows for account-level analytics and optimization features, which makes it convenient to identify high-performing hashtags. The tool also makes suggestions on how to strategize posts and optimize them for more engagement.
When one types the hashtag on the dashboard, the tool presents a tag cloud with related hashtags that comes handy when planning hashtag strategies.
Moreover, you will get a complete timeline of the performance of your hashtag wherein you can check when it started receiving impressions.
Hashtagify is a free hashtag tracking tool loaded with plenty of useful features. One can find information like hashtag popularity, related hashtags, impressions and engagements, mentions and more. The tool offers a complete timeline on when the hashtag is most used and how it will be used in the future.
While using this analytics tool, you can switch between the 'Advanced' mode wherein you can get deeper insights into related hashtags or the 'Table' mode which will show the hashtag trends.
Socialert is yet another social media analytics tool that gives a hashtag performance monitoring service for free.
To get an in-depth report on the hashtag, just enter the hashtag, keyword, @mention, or account on the dashboard. Once you press enter, you will find an insightful auto-generated report. Through this report, you can track active users of the hashtag, mentions, popular keywords, influencers using the hashtags and more.
TrackMyHashtag is a social media analytics tool which tracks all the activities happening around a Twitter campaign, analyzes those activities and provides lots of useful insights.
TMH has the capacity to track complete social media campaigns to give you every minute detail of the topic.
It delivers lots of useful information which could be used to analyze the impact of any social media campaign, to track all the activity of the competitions' social media strategy or to make your own social media marketing strategy.
Pricing
Free 5-day trial with paid plans starting at $49/mo.
---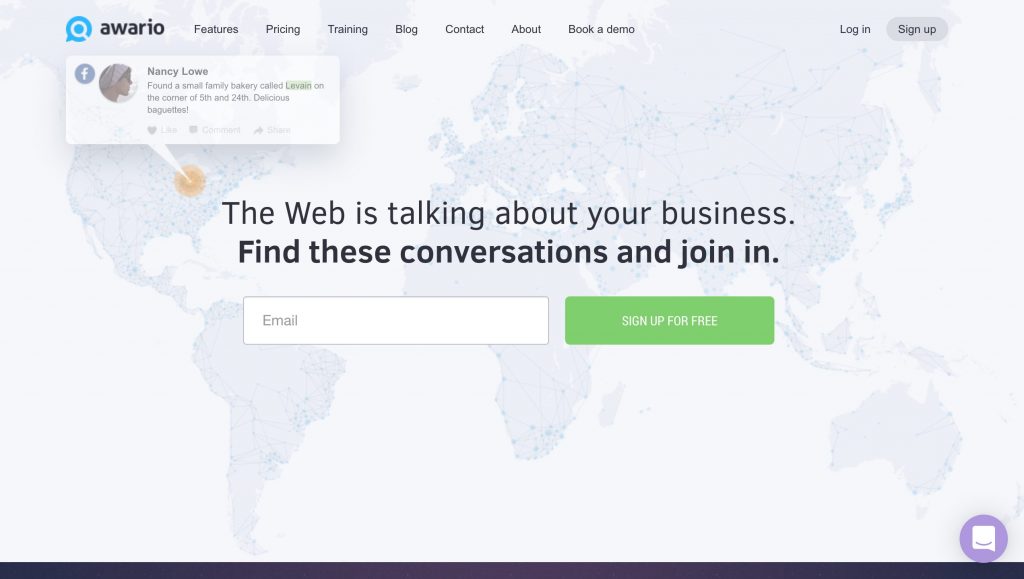 Awario is a social listening tool that gives brands access to data that matters to their business: insights on their customers, market, and competitors. It's developed by a bootstrapped company headquartered in Belarus with offices in Cyprus and California. Awario started as a little pet project that branched off another product by the same company, SEO PowerSuite.
Awario is ideal for looking for things that you're after and then letting the system do the rest. The automation on this product is fantastic. Set an email alert for a specific keyword on any social media platform, then spend minutes a day reviewing them on email.
Pricing
Free 5-day trial with paid plans starting at $24/mo.
---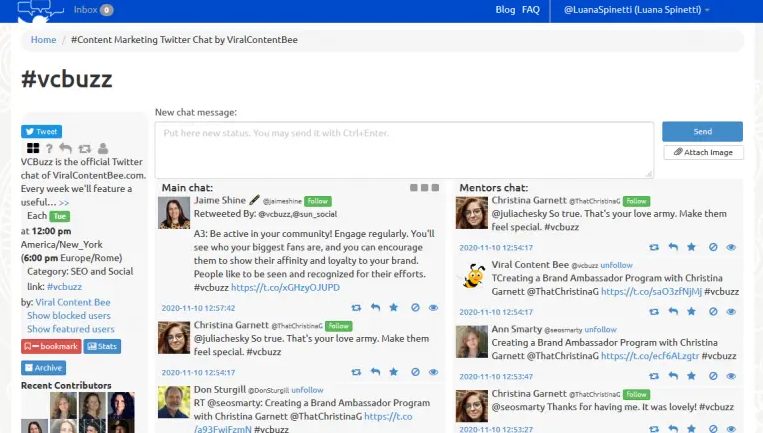 You're on Twitter and a hashtag catches your eye. It's a topic you're interested in and want to get in on the conversation. So you search for the hashtag but keeping up with the conversation isn't as easy as you imagined. It's all over the place. And this is how hashtags work. As more people join and add to conversations, following along becomes a little tough.
TWChat solves this problem with a clean interface. To save you from sifting through streams and trying to keep up, TWChat offers filters. These give you more control over what you see ౼ keeping you on point with specific conversations. TWChat also lets you control your Twitter account through its dashboard. This saves you from having to toggle between screens. Another smart and useful feature is the auto-hashtag. It will add hashtags to your new tweets without you having to type them for each tweet.
Pricing
Free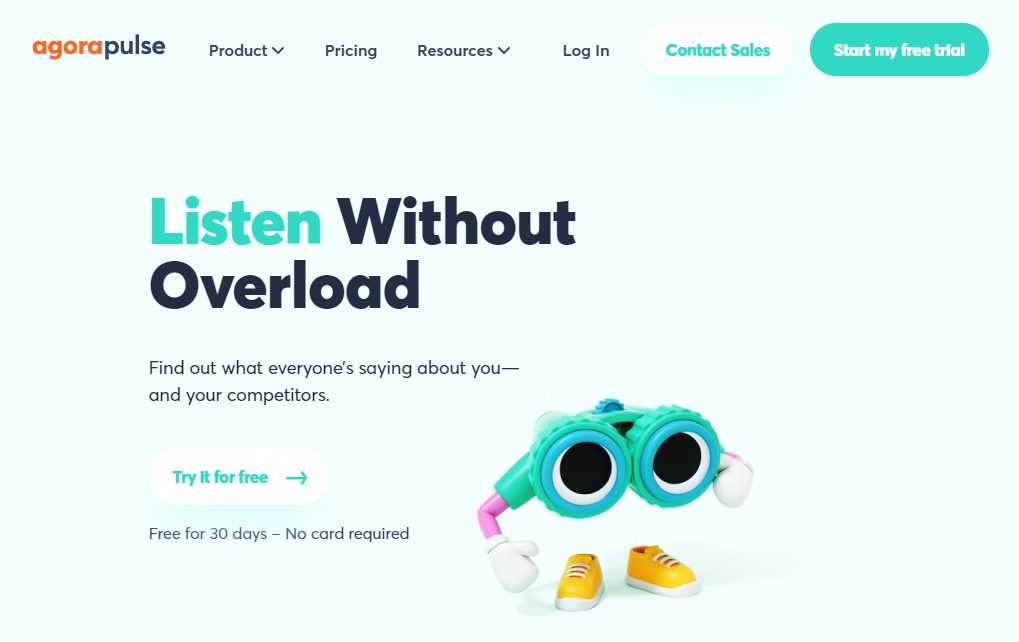 Agorapulse is a popular social media management platform. Its hashtag tracker is a built-in tool and the perfect addition for social media managers who need to find and monitor relevant hashtags. You can conduct searches that include multiple hashtags and specify a language and location. Agorapulse also links hashtag results to the profiles that created each tweet.
On the monitoring front, Agorapulse offers a social listening tab. It's where you can continue the conversation with a reply to Twitter or Instagram posts or assign them to team members to follow up on.
If you're exploring the idea of running influencer campaigns, you'll love how Agorapulse manages the process. Using its social CRM, you can add Twitter and Instagram users to your database. With a collection of potentials, you'll be able to dig deeper into their profiles to find the right people to help promote your brand. You also get reporting to show hashtag performance. Reports include total mentions for each month and can be compared over time for deeper insight.
Pricing
Free 30-day trial with paid plans starting at $79/mo.
Tagboard creates a visual board of reports with a snapshot of how the hashtag is performing. It pulls hashtag reports from across social media channels to bring an in-depth analysis. The tool also shows relatable hashtags that can be used for optimum reach and engagement.
Once you enter your hashtag or keyword to run a search, a dashboard will get updated from multiple social media platforms like Facebook, Instagram, Twitter, etc. You can choose to remove reports from the networking site you are not active on.
The clear and easy to use interface of Tagboard allow one to identify mentions and conversations that matters to you. You can even take actions like retweet, comment, like, reply, and share mentions from your report.
Twubs is nothing like the above-mentioned hashtag tracking tools. Instead, it's a platform where you can start a conversation around the hashtag. The tool allows one to view the hashtag directory and look for specific hashtag feeds.
With Twubs, you can discover popular hashtags around your brand or product and use them for optimum online presence. Moreover, you can join the hashtag chatroom to start interacting with others. You can also create a hashtag chatroom around a hashtag of your choice and insert its feed into your blog or webpage.
Conclusion
So, this is our list of best hashtag tracking tools available for use. Although these tools are not completely free but one can make the most out of the free version as well. These tools can help you assess your needs. Thoroughly test the tools to know which suits you.