100% Free Online Logo Maker with Download
Looking for the ultimate free logo maker? You've got it. We've put together this stunning collection of logos making resources for you to use on your website or in print media, absolutely free. You don't need any costly software or designer services to make a great new logo for your business or website. With this free online logo maker, you can create over 70 different types of logos. The selection includes both text-based logos made from your own text, and images created with our smart art generator and a huge range of clip art images. If you're looking for unique fonts and styles, we showcase these in a special showcase feature. It's time to take your branding to the next level!
Your brand is an essential part of your business identity, which is why having an appealing logo that condenses your brand into a small graphic is so important. Of course, professional graphic design services come with a price tag that may be too high to handle for many individuals. If you're in search of a no-cost alternative to expensive graphic design services, you'll love this free logo maker.
See how easy it is to create your own logo. You'll be able to see it in real time, and download it instantly. It's all free, so test our logo maker now.
Is the Free Logo Maker So Straightforward?
The software is easy to use because its interface is intuitive. It may or may not be advantageous, however. Let's examine the pros and cons of using free website design services, and then you can decide for yourself.
Advantages
You don't have to send numerous emails and make numerous phone calls to your design team in order to create a simple logo with this user-friendly software.
It's a time-saving process; for example, if you're a new business that needs a logo urgently and you contact a designer, he'll ask for a few days, but with the free logo generator, you can create your design in a few minutes.
Due to the software's user-friendliness, you don't need special skills to create your logo. You can make unlimited free changes to your design within minutes.
The benefit that outweighs all other benefits is the fact that it's free; nothing can beat that. Not only do you save time, but you also save money.
Disadvantages
Logos designed in-house without the assistance of a professional are generic. The online templates restrict your options to those they offer. Also someone else in the market may have used the same template, hence your identity cannot be unique.
If you don't have professional assistance in designing your logo, it won't accurately represent your company's history.
Your design may lack the professional look if not designed by a designer.
If you make your own logo, you risk infringing on someone else's copyrights or trademarks, which is the biggest problem. If you don't have the legal expertise to protect your identification you'll have to go through a tedious process of obtaining copyrights for your corporate identity.
A free logo maker is NOT always free, it may have hidden costs. To prevent you from using too many of their premade templates, they may require payment.
With the benefits and drawbacks of free logo makers laid out, making the decision to use one may be less difficult. It's useful in a pinch, but in the long run, it's best to hire a professional designer.
Wix Logo Maker – AI-Powered and Very User-Friendly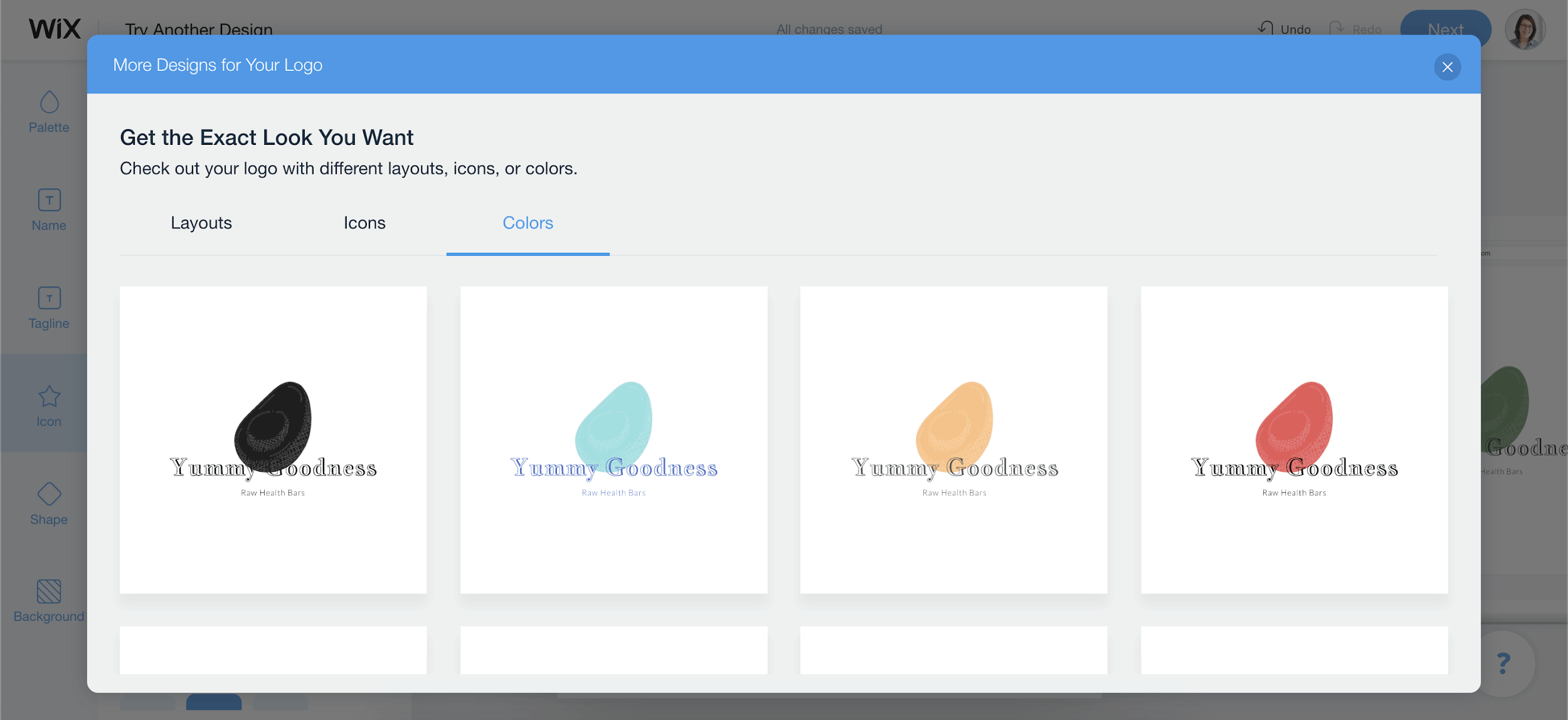 Wix Logo Maker is powered by AI, so it learns from your preferences and generates logo templates that are unique to you. You will begin by inputting information about your company, describing your brand, and teaching the AI which logos you prefer. You will then choose a design to customize, which is the tool's defining characteristic. To change colors/fonts, add background shapes, find a new icon, curve or rotate text, and more, only two clicks are required. You can make unlimited free edits, and you can always start over with a new logo design. You can also download a free sample from the check-out page (for non-commercial use). Since Wix Logo Maker stores your designs, you can always return to edit or purchase them.
Wix Logo Maker has some of the best editing features of any online logo generator. It provides creative options for you to experiment with as well as simple, one-click adjustments to color palette, text layout, and more.
Placeit Logo Maker
Create Bold and Iconic Logos in Seconds
In case you are looking for the best quality logo templates that are actually free, you should check out Placeit to see what they have to offer if you want to see what they have to offer in terms of logo templates.
In the present moment, they have about 40 free logo templates which are suitable for a wide range of industries including clothing shops, music, gaming, and many more.
Technically, there are a lot more than 40 totally free templates available, but there aren't many of them. There are a number of free graphics that you can select for your logo designs in one of the templates, as well as a library of free fonts that you can choose from if you choose to go to one of the templates.
While the number of graphic elements and fonts isn't as large as the full Placeit library, you still get access to plenty of them for free despite the smaller selection. As part of the free trial of Placeit, you can also access plenty of other design templates in addition to those that come with the software.
In terms of customizing the logo, there is nothing easier than a few clicks of the mouse. To quickly create a high-quality logo for your brand, you can easily customize all the aspects of the logo templates to make sure that your logo meets all your needs.
If you're looking for a completely free logo maker, this isn't bad at all as far as I'm concerned.
Are you aware that you can use your free design to create a YouTube intro for your videos and then use Placeit's YouTube intro maker, which also has some free templates to use?
Here are the steps you need to take in order to create your logo:
Please go to the free logo area
Pick a logo template
Customize it to your taste
Download it!
Pricing:
35+ free logo templates
Premium logo templates for $29.95
Subscribe for $14.95 monthly or $99.95 annually for unlimited logos
Standout features:
Free templates of high quality
4000 x 4000 px logo files for free
Plus, you get it transparent
Industry-specific logos for free
Your logo is created in no time
Simple and easy to use
WePik (By FreePik)
Ideal for Graphic Design for Your Business
WePik, FreePik's 100% free online design tool, lets you create social media posts, blog banners, infographics, and much more.
The site lets you create logos for free and provides around 85 high-quality logo templates that you can customize.
Although we found a few quirks here and there, WePik's editor is pretty solid. Overall, it's quite sleek and smooth.
Whenever you edit a logo template, you'll notice that there are a number of layers to the designs, which allows you to customize almost every aspect of the logo template as you please.
It has already been said that all the logos available on WePik are 100% free to download, however, you can only download the logo designs that are 500×500 pixels in size. Therefore, if you're looking for a high-resolution logo design, you may need to look elsewhere if you're in need of one.
Good news is that you are able to download your logo designs with a transparent background, which isn't possible with some of the other tools (Canva, for instance).
Here are the steps you need to take in order to create your logo:
Visit WePik's logo templates section to find the best logo templates for your business
Choose the template that best suits your needs
Make it your own by customizing it
If you wish, you can make the background transparent
It is free to download!
Pricing:
There is no charge for this (but you can only download a version of 500×500 pixels)
Standout features?
Transparent logos available
Free templates with great looks
Styles and niches for logos
Editing is intuitive and easy
Design logos to your specifications
Canva Logo Maker
Best Free Premium Content and Design Tool
With Canva, you have access to an incredible online design tool that allows you to create a whole host of free designs, including logos, for free. They have one of the best logo makers around and we think it is one of the easiest to use out of all the ones around.
It is possible to find both premium and free logo templates on their website, so you can click here to see their selection of logo templates. As far as templates are concerned, there are a wide variety of free templates that are available in a wide variety of styles and niches, such as gaming, technology, events, clothing, and so much more.
To start off with, if you want to make a logo with Canva, we recommend to create a design with custom dimensions (e.g. 1500×1,500px) and then, once you have your design created, you can select a logo template to add to your canvas in the Canva editor. Due to the fact that for a logo template you are going to be required to select first, you will only be able to download the logo in the default size of 500x500px if you do so first.
If you want a free logo design that is simple to customize, Canva is the way to go. You can modify almost every aspect of your logo, so you shouldn't have any problem getting the look you want.
For those who wish to download their logo with a transparent background, you will need to sign up for a Canva Pro account in order to do so. As an alternative, there are free alternatives available for removing the background of your logo design, such as Kapwing.
How to create a logo:
Choose 'Create a design'
Enter dimensions (e.g. 1500x1500px) and click 'create design'
Enter 'logo' in the search bar
Find a niche-appropriate template category
Pick a template
Make it your own
It is available for download!
Pricing:
Free templates
Unlimited downloads (and transparent backgrounds) for $13.99 per month
Standout features?
Start your design with high-quality templates
Logo templates for a variety of industries
Thousands of free logo templates
Editor that's easy to use
PNG files for your logo designs
Adobe Express Logo Maker
Best for Ai-Generated Quality Logos
As an alternative to Canva, Adobe Express doesn't quite match their offer at the moment.
Although it's not free, it's one of the best online design tools around with plenty of quality templates.
You're bound to find a few that match your style and industries among the large number of free logos they offer.
It is also very easy and intuitive to customize the logo templates that come with them. There are many aspects of the logo designs that can be modified. If you are using a free template, make sure to remove the Adobe Express branding from the design so that the Adobe Express branding cannot be seen.
The logo design can be downloaded as a JPG, PNG, or PDF file, depending on how you wish to download it. If you want to download your logo with a transparent background for free, you can also do that.
How to create a logo:
Go to Express account home
Enter 'logo' in the search bar
Choose a free template and click 'create'
Make it your own (remember to remove the watermark)
It is available for download!
Pricing:
Templates that are 100% free to download
Unlimited template downloads for $9.99 per month
Standout features?
Start your design with high-quality templates
Design a professional logo quickly and easily
Logo templates available for free
Transparent background for your logo
(2560x2560px) Large logo file
BrandCrowd logo maker
Best for producing marketing and print materials, and branding those social media posts
You can download free logo templates from the BrandCrowd website
Brand Crowd is the next logo maker on our list of the best logo makers. Although there are thousands of logo templates available for you to choose from, there are not many good quality free logo templates available for you to choose from.
There is a mix of free and premium templates when you enter your brand to get some logo design suggestions. Therefore, it can take a while to find a decent free template that matches the style of your brand.
When you're done with your free logo design on BrandCrowd, they'll try to upsell you on a variety of services and products; however, you can ignore these offers and get your logo for free right away.
Your free logo pack will include a PSD file in addition to high-resolution PNG, transparent background, icon-only, and other file types.
BrandCrowd's interface isn't the most aesthetically pleasing, but it does allow you to easily customize your logo to get the design you want. There are some decent free templates to decide from.
Create a logo:
Enter your brand name for initial results.
Enter a keyword to find niche logos (e.g., photography).
Click 'edit' on a free template.
Personalize it
Download!
Pricing:
Cost-free emblem layouts (get a full pack)
For $45, you can get the standard logo pack.
A deluxe logo plan costs only $25 per month.
What sets it apart from the rest?
Find category-specific logos
Quickly create something good-looking
Easy-to-use interface
All logo parts are editable.
Free, high-quality logos.
Hatchful
Best online logo makers for businesses
Although the logo itself does not need to be complicated, it is worthwhile to give it some thought and effort. Hatchful, Shopify's free online logo maker, eliminates the need to spend days scratching your head or a week attempting to learn graphic design. Maximizing your efficiency with this tool will allow you to focus on the larger aspects of business management.
Hatchful is easy to use and allows you to customize your logo according to your preferences. Simply select your industry and a visual style to inform the logo generator of your preferences.
Now, Hatchful will generate a variety of logos from which you can choose. Choose the logo that best meets your needs, and modify it to your heart's content. You can adjust the font, color, icon, and layout until you are satisfied with the outcome.
Price: Free.
Zyro
Ideal for small business and novice creator looking to build an online presence
You can bring your imaginative concepts to life with the assistance of Zyro's logo maker. You'll have complete control over the appearance of your company logo, from the icon to the size to the text.
In just four simple steps, you will be able to design your own logo at no cost. To use this logo creator, all you need to do is enter the name of your company or brand, select a template, and then customize your logo until you are happy with the results. After that, go ahead and download it and get moving.
Price: Free.
Ucraft
Best image-centric website builder
Ucraft is a company that specializes in creating website builders and gives away free software for the creation of logos to the public. Make a logo with a wide variety of icons, shapes, and text by putting them all together. You can have your very own custom logo designed and ready for use in under ten minutes with the help of this user-friendly logo maker.
In order to download the logo, you will need to create an account with them first, but considering that it is free and attractive, this is a small price to pay. After creation, you will have access to a transparent free download of a high-resolution PNG file.
Price: Free.
Logaster
Ideal for small business and website logos
Logaster comes in at number two on our list of the best free logo maker software. With the help of Logaster, you can create a high-quality logo in just four easy steps. To begin, you will need to type in the name of your business or brand. After you have done that, it will show you some examples of different logo concept designs from which you can choose. After making your selection, you will be prompted to sign up and save your logo so that you can make changes to it at a later time.
Investigate the options for editing your logo by altering the color scheme, the text, or the icons that are used. Choose one of the pricing plans, and then download your files. And you get to choose the logo for your business!
Price: Logaster provides a free small logo without watermarks. $19.99 per month.
Vectr
Create vector graphics easily and intuitively
Vectr is comparable to a stripped-down version of GIMP. To use this logo design software, you do not need any prior experience in design; however, you should be aware that it is somewhat more advanced than the options that were discussed earlier.
The fact that you can use this program either online or by downloading it for free onto your computer is one of the program's many impressive features. It even has live editing, so you can share your progress with a team or collaborate with other people on projects.
You won't be charged extra for high resolution copies of any of the files you create. If you need assistance, they offer a user guide that is helpful as well as tutorials.
Price: Free.
Wix Logo Maker
Best logo maker to create commercial logos
Wix is a specialized tool for the creation of logos that can assist you in developing eye-catching designs for your company. After providing answers to a few basic questions about your company, work, and other aspects of your life, you will be presented with a selection of appropriate colors, icons, and fonts. In the following step, you will be presented with some incredible, fully editable logo templates that include the name of your brand.
After that, you will be able to easily download the logo image, and more importantly, you will obtain the complete set of commercial rights for the image. When it comes to the creation of websites on your own, Wix is another excellent option.
Summary
To sum it up, Logaster is a very basic online logo maker. It's not designed to give you the most customization options or styles—it's simply there to get the job done with the help of just a click or two. I say give it a try. Who knows, you might love it and use it again and again.
The online logo design tool we can recommend for you are:
Logaster: Simple to operate, it employs AI to produce a plethora of logo variations at your disposal (with unlimited edits). The primary issue is that the designs are dull and unoriginal, making it difficult to stand out from the competition.
Ucraft: Useful for creating a simple logo for personal use. It's user-friendly and packed with customization options like gradient swatches, top-notch typefaces, and expertly crafted icons. However, the usage rights are not straightforward, and the Open Source artwork may not be completely unique to the logo, making it difficult to trademark for commercial use…
Canva: It is the best choice if you need a free and easily modifiable logo. To achieve the desired look for your logo, you can change nearly every element. Freemium has its restrictions.
You can take the time out to try these tools. If you don't like our suggestion, you can try the other tools by yourself.
In conclusion, Logos are an effective means of marketing your business and expressing the core of your brand. Professional logos must have a purpose and be designed to convey you identity in a memorable way.