How to Become a Web Hosting Reseller
Starting a web hosting reseller is one of the easiest things you can do for your business. You can get started in just one hour, and you'll have everything you need to succeed! Here are some tips to help make it a smooth process.
How to Become a Web Hosting Reseller
Step 1: Choose a Reseller Web Hosting Partner
Instead of blindly signing up for more server space from your favorite hosting provider, take a few minutes to think of the business you'd like to create and what the immediate future looks like. The path an established web design and development agency may take will likely be quite different than the path taken by a solo hobbyist looking to host a few friends' sites, or someone looking to start an entirely new hosting company.
Beyond affordability, important features to keep in mind include the operating system, hardware, software, and other perks that will make your and your customers' experiences more efficient and enjoyable. Linux or Windows? Do you want to spring for faster solid-state drives or stick with traditional hard disk drives? Do you need the added space and scalable resources of a virtual private server or prefer the hands-free support of shared hosting?
How many customers do you realistically expect to bring on board at the beginning? What type of hosting needs do they have? Have those figures in mind as you compare reviews and ratings of reseller hosting providers to find the plan that fits your criteria and budget. We've compiled a list of the best overall hosts below to give you a good starting point. Each provider has a wide range of plans to help you get off the ground.
Step 2. Choose your hosting package
Traditional reseller hosting involves selling provisioned space on a dedicated server, but cloud environments, where your reseller package and your customers' packages can be easily scaled, are popular today. Whatever your preference, you should choose and customise your hosting package based on your projection of customer growth, your expectations of customer requirements and your budget. By completely tailoring your server environment through, for instance, the number of cores or the type of hard drive fitted, you can deliver enhanced performance to your customers and gain a competitive advantage.
Step 3: Build Your Hosting Services
You've probably got an idea of what your customers are looking for, but put yourself in their shoes and imagine shopping for a new hosting plan: What are the services and features that would attract you? The price will obviously matter, but we'll get into that later. What about automatic backups or free SSL certificates? Will they need add-on domain names?
Especially if you opt for Linux reseller hosting, you'll likely use cPanel and WHM to construct and oversee your hosting plans. If you've had a web hosting account before, you're probably already familiar with the gold standard of control panels. As a reseller and hosting administrator, however, you'll now have access to its sister product, WHM. Short for Web Host Manager, WHM allows you to create cPanel accounts for your clients, monitor and protect your server, and easily transfer or backup customer data.
First, however, you'll need to take care of the organizational tasks to properly set up your new business. If your hosting provider supports private nameservers or white-label hosting, you'll want to add your logo and branding to the management portals and update your nameservers. WHM should direct you to exactly where you need to go, otherwise, you can click on Basic Web Host Manager Setup in the menu to the left. Once you've added your contact and nameserver information, scroll through the menu on the left again to tweak the customization options for the cPanel interface.
Step 4: Set Your Prices and Configure the Billing System
This isn't a charity, right? By the nature of the word, reselling means that money will need to change hands. Whether you're offering the friends-and-family discount to… well, friends and family… or expecting to turn a profit, you'll need to determine how much to charge and how to notify customers that a payment is due.
Even a simple business plan likely includes some description of your target audience and a basic forecast of sales and expenses. Attaching numbers to your reseller hosting goals helps you predict income and, eventually profits. You have complete control over what you will charge your customers, and learning how to price your products appropriately can be extraordinarily difficult.
Once you've determined your prices, an automated billing system will come in handy. Most reseller hosting plans that include cPanel and WHM also include WHMCS, which is an extraordinarily popular one-stop solution for client management, invoicing, and support tools all integrated into a centralized platform. ResellersPanel created a thorough and detailed guide for configuring WHMCS to work with your products and services.
Best Reseller Hosting
1. InMotion Hosting – Best for starting a web hosting business
STARTS AT $15.39
25 CPANEL ACCOUNTS
FREE DEDICATED IP
90-DAY MONEY BACK GUARANTEE
InMotion is a very well-known web hosting company, and their reseller plans are perfect for people looking to get into the hosting business themselves.
You get all of the tools and resources you need to start reselling in one complete package. Even their entry-level plan comes with 25 cPanel accounts, WHM, and WHMCS. This means you can sell hosting and bill people within the platform as soon as you sign on.
Some reseller hosting plans make you pay extra for the essentials, but not InMotion. You can brand your hosting however you want. Other hosts make whitelabeling your service a premium features.
On top of that, you get 24/7/365 support and very competitive pricing.
Here's a breakdown of what each reseller plan offers:
The "R" packages are shared hosting plans, and the "VPS" packages are virtual private servers.
Things like disk space, monthly bandwidth, and dedicated IPs increase with each plan.
I recommend any one of the R plans for people starting out. There's less responsibility in terms of set up and management, which is good if you are just getting into the hosting game.
If you're a hosting pro already, the VPS plan will work very well. You'll get a great price on hosting resources and root access to configure everything your way.
InMotion offers free billing software, free cPanel and WHM, free SSD drives, DDoS and malware protection, and server management features for select packages.
They also have a 90-day money-back guarantee, which is almost unheard of in the web hosting space.
2. Bluehost (Reseller Club)
Bluehost offers a choice of Linux and Windows plans marketed under the name Reseller Club. You can choose from over 800 products to resell, including unlimited white-label cPanel accounts.
Bluehost's reseller plans come with the popular Web Host Manager Complete Solution (WHMCS) for client billing. However, you'll need to purchase this software separately if you opt for the cheapest plan.
All packages include:
Email
Free SSL certificates
Free content delivery network (CDN)
Website migration
24/7 reseller support
Pricing starts at $11.99 per month for the R1 reselling package. It includes unlimited websites, 40 GB disk space, and 800 GB data transfer.
3. SiteGround – Best for existing agencies
STARTS AT ONLY $4.99/MONTH
FREE SITE TRANSFERS
UNLIMITED SITES & DATABASES
30-DAY MONEY-BACK GUARANTEE
SiteGround is a big player in the web hosting industry. So it's no surprise that they offer excellent reseller hosting plans.
SiteGround used to sell "reseller credits," where each credit was worth one year of hosting for a website.
However, they now have three reseller packages with varying levels of web space and support.
Every plan comes with unlimited websites, a centralized dashboard, free WP installation, auto-updates, daily and on-demand backups, free SSLs, CDN, and email, easy staging, and unlimited databases.
If you start with the GrowBig plan, it's $4.99 per month. The GoGeek plan is $7.99 per month and includes priority support and the ability to white-label clients. Cloud reselling plan starts at $100 per month and also gives your customizable client access and the ability to tailor site resources.
It is important to note that these fantastic prices are promotional rates and will renew at a higher price after the initial contract period ends.
While SiteGround offers an excellent service of free daily and on-demand backups, they are missing some important reseller features, such as not having automated billing or domain name reselling features, and it is not really built to scale. But SiteGround is ideal for existing businesses to expand their offerings, due to already having billing and clients built-in.
The single dashboard for all your sites makes it easy to manage everything from one place, and SiteGround can grow with you as your business scales.
4. A2 Hosting
A2 Hosting is one of the fastest hosting resellers. It boasts ultra-fast page loading times and a Turbo speed feature. You can also depend on expert 24/7 support to assist you with your clients' technical queries.
A2 Hosting has a 99.9% uptime guarantee, so you'll be able to offer stellar performance to your customers. You can manage their accounts with the user-friendly WebHost Manager (WHM). It also lets you use your own branding and allocate server resources as you like.
Other features include:
Account migration
Free SSL certificates
Free CDN
Server location options
Billing software (Blesta or WHMCS)
Automatic backups
Pricing starts at $13.19 per month for the Bronze package. It includes up to 40 client accounts, 30 GB disk space, 400 GB data transfer, and Blesta client management software.
More advanced plans give you the option to use WHMCS as well.
How to Start a Web Hosting Reseller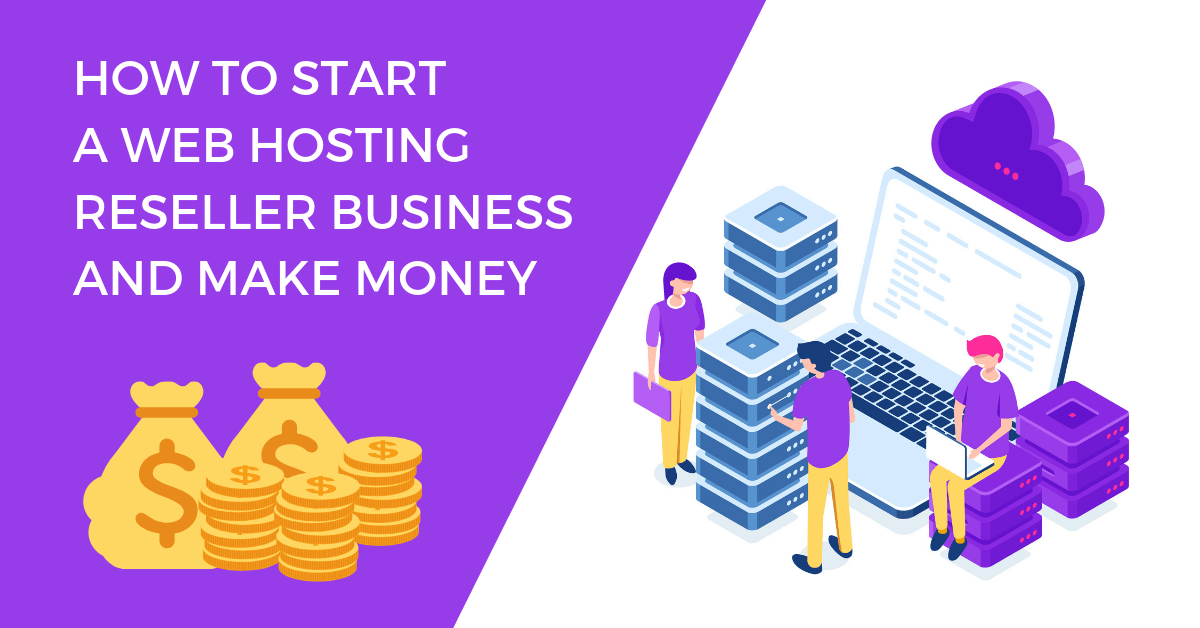 A web hosting reseller is a business that provides users with the ability to host their own websites. Web hosting resellers allow individuals and businesses to rent out their website space, as well as manage and operate the website themselves.
In order to start a web hosting reseller, you will first need to identify your target market. This means understanding what types of businesses and individuals are interested in using your space tohost their websites. Once you have nailed down your target market, it's then easy to begin building a list of potential customers.
Choosing the right website is key to starting a web hosting reseller. Choose a website that is easy to use and understand, and that falls within the bounds of your specific business interests and needs. For example, if you're looking to start a web hosting reseller in the United States, you might want to choose a website that focus on US citizens only.
Choose the Right Hosting Company
Hosting your own business requires setup time and effort, so it's important to choose a hosting company with whom you can easily work on setting up your business. You should also research their customer service and their commitment to quality service.
Choose the Right Domain
Choosing the right domain is just as important as choosing the right hosting company and website. You need a domain name that corresponds with your specific business interests and needs – for example, if you're selling products online, you might want to choose a domain name that refers to products rather than businesses.
Choose the Right Hosting Plan
After you have chosen your website, hosts, domain name, and hostings plan, it's time for the next step: setting up your hosting account! Setting up your hosting account is simple – just enter in all of your information (like your email address and phone number), select an payment method (credit card or PayPal), create an account password (to ensure data security), and hit submit!
Tips for Successful Web Hosting Reseller Operation
When starting a web hosting resale business, it's important to choose a strong domain name that is convenient for your customers and easy to find. You also want to make sure your website is well designed and easy to navigate.
In addition, use a good hosting company that provides high-quality service and supports a wide variety of domains. By following these tips, you'll be on your way to becoming a successful web hosting resaler.
Conclusion
Starting a Web Hosting Reseller can be a great way to get started in the web hosting industry. However, it's important to use a strong domain name and create a good website before starting your business. Additionally, it's helpful to use a good hosting company and domain. By following these tips, you should be able to start your own successful Web Hosting Reseller.